Do you want to go for a drink during Apik but you don't know where yet? There's no shortage of bars in Saint-Denis, here are several places where you can quench your thirst!
L'Amère à boire
Renowned artisanal microbrewery established in the Latin Quarter since 1996, L'Amère à Boire specializes in Czech-inspired beer! Come and find beers in cans specially designed in the colors of Apik!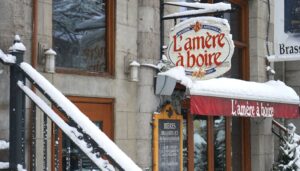 L'Abreuvoir
This bar that is both a restaurant both a comedy and music venue is the place to go out. Renowned for its huge indoor covered terrace and its atmosphere of fire at all times, it is definitely a must in Montreal nightlife, and we are waiting for you there for a fiery after party!
Point Bar Lounge
Montreal's Latin phenomenon, where you can take advantage of its tapas bar to discover Colombian and Venezuelan gastronomy and taste its Latin cocktails.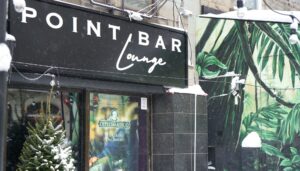 4e mur
Speakeasy (cocktail bar and clandestine restaurant) in the Latin Quarter, to know the address we invite you to consult their site!
Petit Mexico
Feel in Mexico while staying in Montreal! Mexican lounge with margaritas in 10 flavors.
Pub du Quartier latin
Popular meeting place for Montreal wildlife for over 23 years. Large selection of beers, wine, cocktails and a varied menu!
Turbo Haüs
Freshly renovated, the bar is ready to welcome you to drink delicious drinks and listen to heavy music.
Patrick's Pub
Perfect place for lovers of Irish culture! More than 15 kinds of beers on tap, both local and imported. There is also a great selection of bottled beers, wine, scotches and of course, Irish whiskey.

Café Gitana
Warm and relaxed atmosphere, in a magnificent decor inspired by Anatolian culture, you can enjoy the cigar lounge, shisha, delicious cocktails, coffees, etc.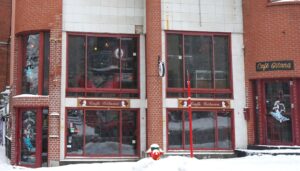 Arcade MTL
First bar entirely dedicated to arcade games and retro games in Montreal. You can drink a microbrewery beer or a thematic cocktail with your friends in the most authentic video game bar in town.

Bistro à Jojo
Temple of the Blues in Montreal. Every evening, you can see live blues shows there with a good beer in hand.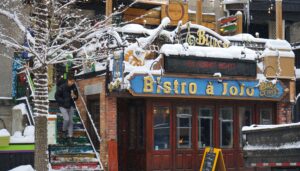 Psy Bar
The perfect place to taste delicious cheeses accompanied by one (or more) glass(s) of wine. Plus, they have a delicatessen, so you can take home cold meats, cheeses and bottles of wine!